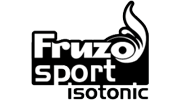 A dual cooling and hydrating isotonic slushy with 2 refreshing flavours for those that work and play hard.
Developed specifically for use in slushy machines to meet the dual cooling and hydration requirements of high performance athletes. Fruzo Sport Isotonic was developed following research presenting the beneficial effect of cooling and thermoregulation in athletes exercising in the heat.
SUPPLIED AS A LIQUID IN EASY TO USE 5 LITRE CONTAINERS

THE MOST EFFECTIVE BEVERAGE COOLING MEDIUM ON THE MARKET

ISOTONIC

HOLDS SLUSHY FORM FOR EXTENDED PERIODS

QUICK TO DISPENSE

LOW LABOUR COST
Ingredients
Water, Sucrose, Dextrose, Vegetable gum(466), Food acid(330), Sodium chloride, Preservatives (202,224).
Fruzo Sport Isotonic Flavours
Energy (KJ) 129.9
Protein (g) 0.0
Saturated Fat (g) 0.0
CHO sugar (g) 7.8
Moisture (%) 0.3
Potassium (mg) 13.1
Energy (cal) 31.1
Fat (g) 0.0
CHO total (g) 7.8
Fibre (g) 0.0
Sodium (mg) 39.2
Calcium (mg) 0.1